Low Carbon Tourism infrastructure
Project will work with selected investment partner to ensure that the design of new green-field tourism projects is in full compliance with adopted low-carbon standards.
Assistance will be provided to the partners to help understand and apply the requirements, identify and assess feasibility of low carbon measures, as well as to quantify and monitor the eventual carbon footprint of the new tourism projects.
Expected Outcomes: Low carbon tourism infrastructure set at the places, through implementing the infrastructure projects such as usage of solar boats and construction of the new no-motorized corridors and bicycle paths and smart solar urban furniture.
In order promoting low carbon tourism infrastructures in partners' municipalities, bus station in Tivat has been equipped with bike station for electric bicycles while bus station in Cetinje has been renovated.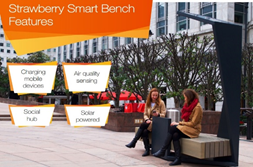 Very important step in promoting usage of renewable energy sources is installation of the devices/equipment promoting low-carbon transport and tourism in the partners' municipalities and marinas of Bar and Kotor as well as airports Podgorica and Tivat. First smart solar benches will be installed in Herceg Novi and airport Podgorica. These smart benches functions as solar charging station for mobile phones and other portable devices. An IT solution for data collecting, monitoring and analyses is developed and is integral part of this smart equipment. This will provide us with information about temperature, humidity and CO2 emission in real time.

Different kind of initiative in promoting non-motorized and bike path have been done, such is branding and promoting bike racks in Capital of Podgorica because of better maintains and usage at 16 locations in city, construction of bike station and racks for electrical bike in Tivat, and revitalization of 8 km of existing bike corridors in Herceg Novi.
---