Sustainable urban mobility
These activities will provide technical assistance and investment in carbon emission reduction from road travel in the area of Kotor Bay development of travel-demand model and the Sustainable Coastal Transport Strategy and Action Plan for Kotor Bay, sustainable transport options for tourism travel measures to raise awareness and provide incentives for tourists to use low-carbon travel modes.
Expected Outcomes:
Increased use of public transport in coastal areas
Increased average speed of transit and reduced traffic jams on the coastal roads
Reduced fuel use and GHG emissions from road transport in Kotor bay along the 107 km coastline
In the scope of the activities related to sustainable transportation in Montenegro the Study on possibilities for using renewable energy sources for Kotor-Cetinje cable-car power supply has been developed.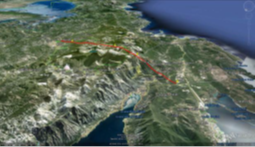 This infrastructure project will help to fulfil one of the main objectives of the Government of Montenegro and the municipalities of Kotor and Cetinje, which is to develop high-quality tourism amenities. The overall impact of the Project will be to further open this area to both regional and international tourists, drawing on the significant cruise ship activity in Kotor, as well as local and regional visitors to the Adriatic Coast, such as Dubrovnik, which is only 50 km away. The other impact will be to reduce car and bus traffic on the 55 km long main road between Kotor and Cetinje that goes around the Lovcen National Park.
Figure 1 Route aerial view
Main objective of Study on possibilities for using renewable energy sources for Kotor-Cetinje cable-car power supply is exploring low and no-carbon opportunities in the context of design and development of Kotor – Cetinje cable car.
Under project "Towards Carbon Neutral Torusim" (TCNT), in co-operation with the municipalities in Boka Bay (Herceg Novi, Kotor and Tivat) and Old Royal Capital Cetinje, it is developt a regional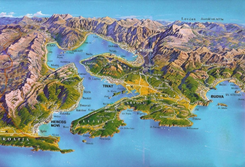 integrated, intermodal low carbon sustainable transport strategy and action plan (Sustainable Urban Mobility Plan) for Boka Bay and Cetinje. Strivings are implemenation of 24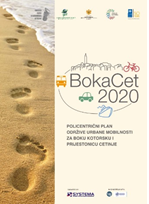 measures presented in Action plan which contributes low carbon spatial planning and as such is sicking for the dirrect connection with the municipal and state spatial plans currently being developed or updated for this region.
Plan includes also existing initiatives for inter-municipal low carbon transport connections, especially cable-car Kotor-Lovcen-Cetinje, which needs to be incorporated as integral part of this Plan, but also the other initiatives which sugested by stakeholders during consultative process. Special attention has be paid to the marine transport in Boka bay, both in the baseline assesment, and in proposed measures.
Because the target area covers 4 different municipalities, plan is done using methodology for development of Polycentric Sustainable Urban Mobility Plans (PolySUMP) (http://www.poly-sump.eu/) which is suitable for polycentric regions – areas characterised by several centres, where services and goods, and therefore transport needs, are scattered in different towns.